Veggie Courgette Tart
Featured Product:
Organic Nutmeg Ground
Shop Now
Follow our simple recipe for an oh so delicious homemade courgette tart!
Ingredients
2
Courgettes
thinly slices lengthways
1
tablespoon
Grated cheese
Instructions
Heat the oven to 200C or 180C for fan assisted ovens, add one tablespoon of the olive oil in a pan and cook the courgettes for 5 minutes or until golden. In a bowl, mix the ricotta and eggs together with a handful of basil, the nutmeg, cheese of your choice and the garlic.
On a clean work surface lightly dusted with flour, roll out the puff pastry and line a baking tray with baking paper. Place the pastry on top of the baking paper and spread the cheese mixture on to the pastry leaving a border.
Pop the courgette slices on top, fold the edges in to form a small border, pinch together and bake for 30 minutes or until golden brown.
Browse more Recipes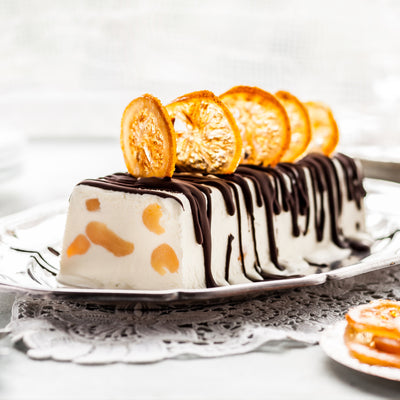 Christmas Semifreddo
Go Italian this Christmas with our Christmas Pudding Semifreddo!