Poppy Seed Buns
Move over cinnamon buns... there's a new bun in town!
Ingredients
Rolls
2
tablespoons
Vegetable oil
Filling
Instructions
Rolls
Combine the milk, yeast, sugar and two tablespoons of flour to a jug and combine. Leave for 10 to 15 minutes.
Pour the mixture into a large mixing bowl with the melted butter, egg, vanilla extract, flour and salt and combine until a dough forms.
Dust a clean work surface with flour, knead the dough until soft and elastic (add extra flour if needed). Oil the bowl, add the dough, cover and leave to double in size.
Fillings
Add the milk and poppy seeds to a saucepan and heat for 2-3 minutes. Drain, add the sugar and butter, place in a blender, pulse and drain once more.
Roll the dough out on to a floured work surface into a rectangular shape. Spread the poppy mixture on to the dough, roll the dough, seal the seam with water and cut into 12 equal size rolls.
Line a baking tray with baking paper, place the rolls on top with enough distance between each roll to rise. Cover with clingfilm and leave to double in size.
Preheat the oven to 180C, remove the clingfilm, coat the dough with an egg wash and bake for 15 to 25 minutes or until golden brown.
(For a delicious glaze, melt dark chocolate with butter and drizzle it on top!)
Browse more Recipes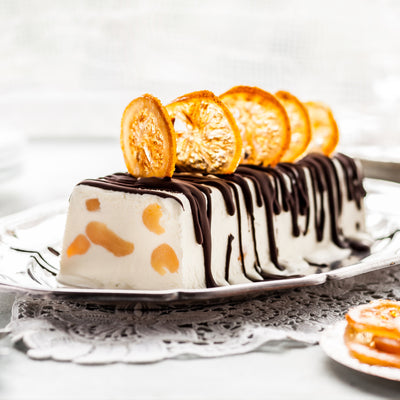 Christmas Semifreddo
Go Italian this Christmas with our Christmas Pudding Semifreddo!