Pumpkin Ravioli
Featured Product:
Nutmeg Ground
Shop Now
Little pockets of heaven stuffed with autumnal pumpkin flavours!
Ingredients
Dough
Filling
2
tablespoons
Bread crumbs
Instructions
Dough
Add the flour and eggs to a food processor, blend until a dough forms (add water if needed). Place the dough on to a clean work surface dusted with flour and knead until soft. Leave to rest for half an hour.
Filling
Preheat the oven to 190C, cut the pumpkin in half, scoop out the seeds and pulp, drizzle with oil, sprinkle with salt, pepper, sage and thyme and place flesh side down on to a baking tray lined with baking paper and place in the oven for 25 minutes or until soft.
Remove from the oven and leave to cool. Once cool, scoop out the pumpkin, mash into a bowl with the ricotta, nutmeg, oil, salt, pepper and bread crumbs.
Dough
Roll our the dough on to a floured work surface, cut out long rectangles (see image) and slice across to form one half of the ravioli pockets. Spoon the filling onto the centre of some of the pasta sheets and place empty pasta sheets on top. Pinch the ends with wet fingers to close the pasta pocket.
Cook in a large pot of salted boiling water for 5 minutes. Be delicate with the pasta.
Browse more Recipes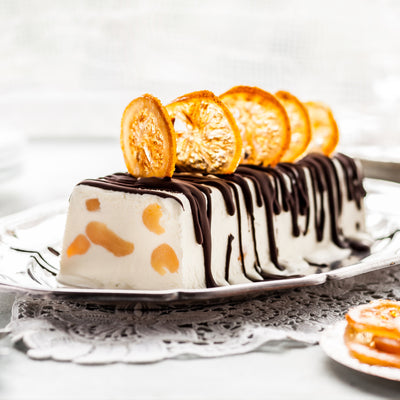 Christmas Semifreddo
Go Italian this Christmas with our Christmas Pudding Semifreddo!