Rhubarb Granola Bowl
Layers of yumminess all packed into one recipe!
Ingredients
Rhubarb Compote
Half a
Lemon or orange peel
Granola
1 1/2
tablespoons
Agave nectar
Instructions
Compote
Place all the ingredients into a saucepan. Heat to a medium-high heat and stir occasionally until the rhubarb begins to break down completely. Remove from the heat, stir in the vanilla and leave to cool.
Granola
Preheat the oven to 170C, line a large baking tray with baking paper and in a large mixing bowl combine the oats, nuts, seeds, salt and cinnamon. Pour in the oil, agave nectar and vanilla, mix until all ingredients are coated. Spread the granola on to the prepared baking tray and bake for 10 minutes, carefully stir and bake for a further 10 to 15 minutes or until golden brown. Leave to cool. Once cool add the dried fruit, break the granola up with your hands, sprinkle cacao nibs on top and stir.
Serve the compote, and granola with a layer of yoghurt and top with fresh fruit!
Browse more Recipes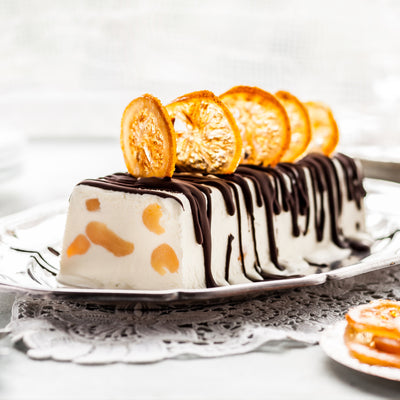 Christmas Semifreddo
Go Italian this Christmas with our Christmas Pudding Semifreddo!