Traditional Kulich 👩‍🍳
Kulich is a traditional sweet Easter bread!
Ingredients
Bread
14
g
Fast-action dried yeast
4
Cans/tins
labels removed & can cleaned
Icing
Instructions
Add the flour, yeast, one tablespoon of sugar and the room temperature milk to a mixing bowl and combine until a dough forms.
Cover the mixing bowl with clingfilm and leave to rise in a warm area of the house for two hours.
In a separate bowl, beat the eggs, vanilla, sugar and salt together. Tip in to the dough a long with the butter, chopped almonds, semolina and ground cardamom. Mix and then knead the dough in the bowl.
Dust a clean work surface with flour, tip the dough out of the bowl and knead for 5 minutes.
Return the dough to the bowl, cover and leave to rise for a further hour.
Remove the dough from the bowl, flatten and sprinkle the sultanas, chopped apricots and chopped figs on top. Knead the dough for a final time, combining the dried fruit and dough.
Butter the cleaned cans/tins or line with baking paper. Divide the dough in to four separate pieces and place in to the cans. Cover the cans with greased clingfilm and leave in a warm place for two hours.
Preheat the oven to 180C or 160C for fan assisted ovens, remove the clingfilm from the cans and place the cans on to a baking tray.
Bake for 25 minutes, carefully cover the tops with foil and continue to bake for a further 15 minutes. Allow to cool completely before icing.
Mix the icing sugar, lemon juice and water together, remove the bread from the can and drizzle the icing on top.
Browse more Recipes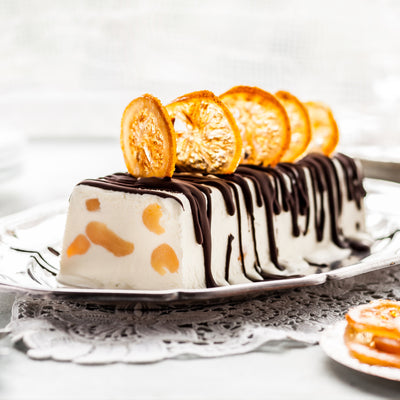 Christmas Semifreddo
Go Italian this Christmas with our Christmas Pudding Semifreddo!