Birthday Brownies 🥳
Featured Product:
Ground Linseed
Shop Now
Dairy-free, decadent brownies topped with sprinkles, what's not to love?!
Ingredients
85
g
Plant-based margarine
1/2
teaspoon
Coffee granules
1/4
teaspoon
Baking powder
Instructions
Preheat the oven to 170C or 150C for fan assisted ovens and line a brownie tin with baking paper.
In a bowl, combine 6 tablespoons of water and two tablespoons of ground linseed. Once combined, leave to sit for 10 minutes.
Carefully melt 150g of chocolate, margarine and coffee with 65ml of water.
In a large mixing bowl, combine the flour, cacao powder, 1/4 teaspoon of salt and 1/4 teaspoon of baking powder.
Now that the chocolate has cooled slightly, add the sugar to the chocolate mixture and whisk until smooth.
Tip in the linseed mixture, vanilla extract and the remaining chopped chocolate and mix.
Finally, add the flour mixture, combine and spoon the brownie mixture in to the lined tin.
Place in the oven for 30-40 minutes or until the brownies are cooked through.
Leave to cool, cut into squares and serve with sprinkles!
Browse more Recipes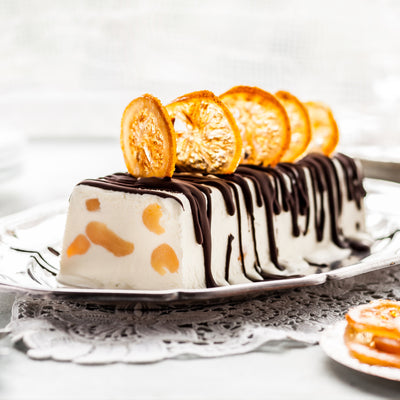 Christmas Semifreddo
Go Italian this Christmas with our Christmas Pudding Semifreddo!