Vegan Peanut Butter Flapjacks
Featured Product:
Organic Jumbo Porridge Oats
Shop Now
Chocolate + peanut butter + flapjacks... what's not to love?!
Ingredients
128
g
Peanut butter
plus extra for topping
Instructions
Preheat the oven to 160C and line a baking tray with baking paper or grease with coconut oil.
Spoon the peanut butter, maple syrup and bananas into a food processor and blend. Scoop into a mixing bowl, add the cinnamon, nutmeg and oats then mix until combined.
Place the mixture into the prepared baking tray and press down firmly until even. Place in the oven and bake for 25 to 30 minutes or until golden brown. Leave to cool.
Melt the dark chocolate and drizzle on top of the flapjacks a long with some peanut butter. Place in the fridge for half an hour, slice and enjoy!
Browse more Recipes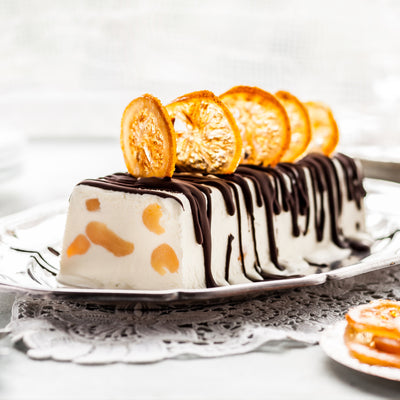 Christmas Semifreddo
Go Italian this Christmas with our Christmas Pudding Semifreddo!