Vegan Vanilla Cheesecake
Experience the taste of summer with every bite of this plant based vanilla cheesecake!
Ingredients
Base
Filling
Topping
Instructions
Base
Preheat the oven to 175C and line a baking tray with baking paper. Tip the coconut sugar, sea salt, almonds and oats in to a blender and blend until a fine consistency forms.
Pour in the melted coconut oil (you may need to add more than 4 tablespoons if the mixture is too dry). Line the prepared baking tray with the base mixture, flatten the base and place in the oven for 15 minutes, increase the heat to 190C and bake for a further 5 to 10 minutes or until golden brown.
Filling
Tip the cashews in to a clean blender a long with the vegan cream cheese, arrowroot, vanilla, maple syrup, coconut oil, coconut cream, 2 tablespoons of lemon juice and 2 tablespoons of lemon zest. Blend until creamy and smooth.
Pour the filling on top of the baked crust and bake at 160C for 50 minutes.
Remove from the oven, leave to cool for 10 minutes then place in a refrigerator.
Once cool, cover the cheesecake and leave overnight. When ready to serve add fresh fruit on top.
Browse more Recipes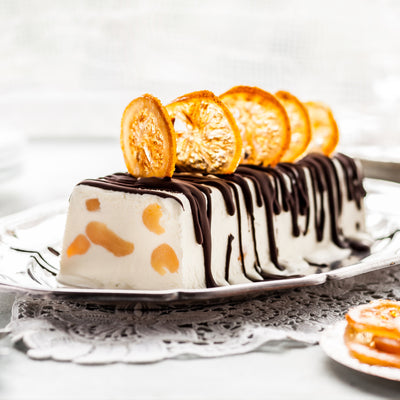 Christmas Semifreddo
Go Italian this Christmas with our Christmas Pudding Semifreddo!